One of the first steps to getting Your ChMS set up for your organization is to create groups. Groups are used to contain lists of people for: membership status, grades, classes, choirs, services, outreach teams, etc.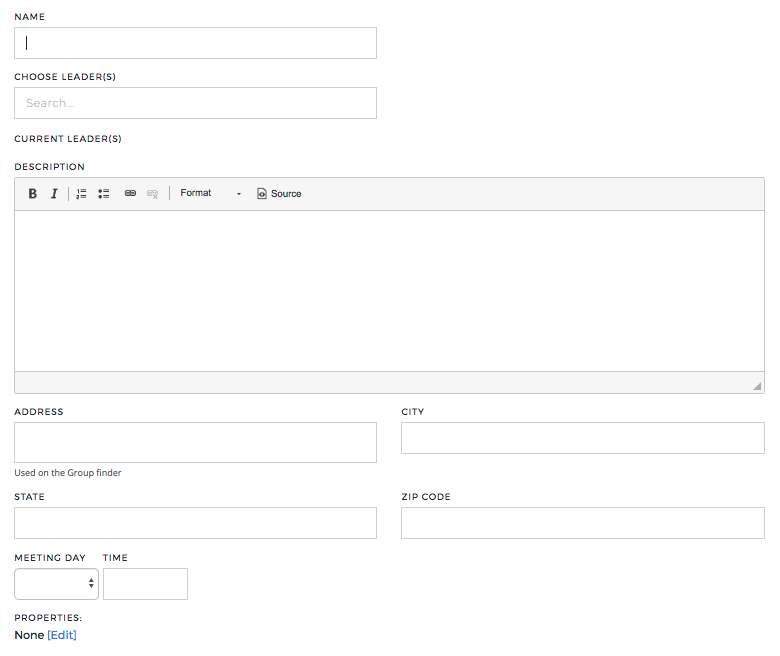 Create A Group
Navigate to Groups in the left sidebar (This may be different if the terminology is changed in General Settings → Terminology).
Click the Add tab at the top.
Give the group a name. Orient the name to represent a function or task. For example: 'Directory', 'Members', 'Members - Moved Away', etc.
Spend a little bit of time with your team creating and planning a naming scheme for your organization. Think about the objectives and goals you have then plan your group names to meet those needs. Having a bit of plan in this area will create a clear structure and template for other groups created later.
Assign a group leader (optional).
List a brief description (optional - ex. Woman's Wednesday Morning Bible Study).
Enter Address information (optional - to be used for the Group Finder).
Assign the Meeting Day and Time (optional - to be used for the Group Finder).
Assign Group Properties/Settings using the

[ Edit ]

link. Properties are used to power filtering tools for Groups related to age group, type of gathering, event type, etc. Properties are a flexible tool to quickly manage and filter many Groups. More about Group settings options can be found in the link below.
Click

SAVE

to complete the group creation process.
Clone a Group
The Clone Group icon allows the fast, convenient creation of new groups based on an existing group. This can help when you have a number of new groups to create.
Navigate to Groups in the left sidebar and select List.
From the List menu locate the Group that you would like to clone.
When your mouse hovers over the group it will highlight it blue which will reveal the Clone Group icon on the far right, you may also check the box of the group you would like to clone.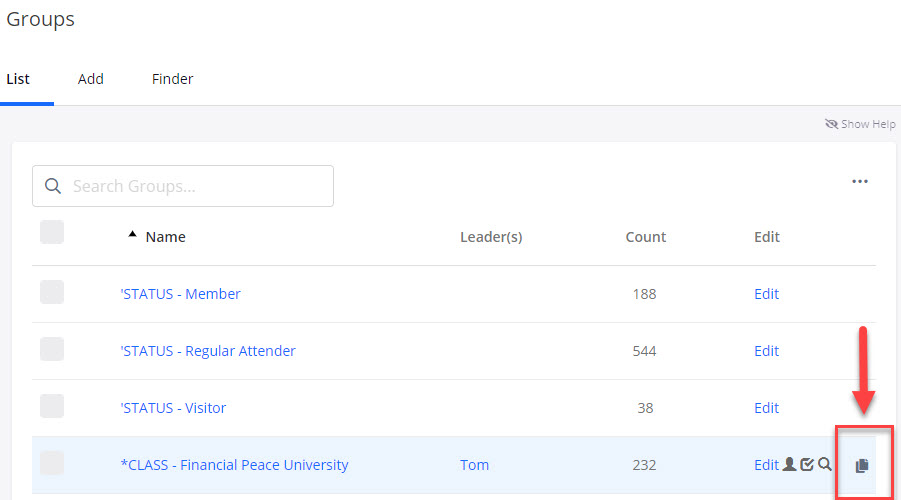 When clicked, you will be met with options for cloning the group. Your options include:

Group Name: Your original group name will be added with "(Copy)" at the end to differentiate the two.
Include Group Settings: Group settings from the original group will be copied over into the clone. Double-check the settings to ensure they are correct.
Include Active Group Members and Leaders: Members and leaders will be copied over to the cloned group.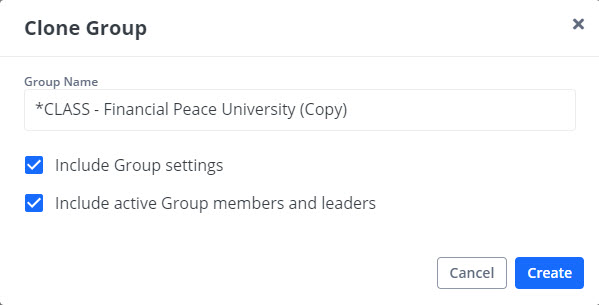 Click Create and make any changes to the Group you may need to and then click Save!
---
Leverage the tools and flexibility Groups offer by making sure you understand their settings. Find out more …
---
Take your Group filtering and management power to the next level with Group Views by leveraging Group Properties.
Related Topics: